HubSpot Portal Audits – Work Smarter With HubSpot
The World's First Fully Automated HubSpot Audit
A HubSpot Audit from Portal-iQ is a quick and easy way to maximize your use of HubSpot. By scanning your HubSpot set up, it can quickly identify any issues or opportunities, and provide a prioritized actionable summary of recommendations.
Used effectively, HubSpot can help you to improve your business performance, increase leads, maximize your sales opportunities, and help you deliver excellent customer service. With Portal-iQ, you can ensure your HubSpot portal is set-up to support the long-term success of your business and continues to deliver all the benefits of your HubSpot investment.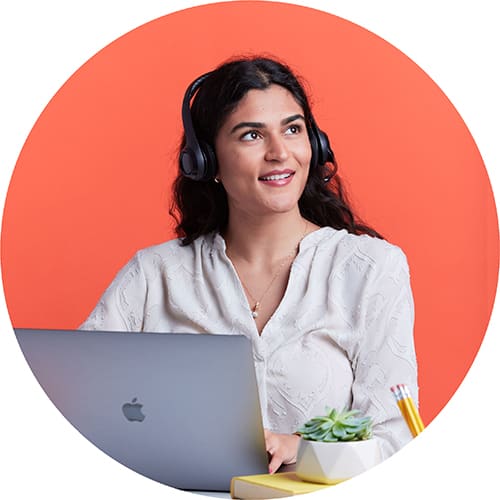 Convert more leads
Portal-iQ will scan and report on data placement in your key CRM fields, app use, and more. Having complete, accurate, and accessible data about your customers is key to maximizing your future marketing campaigns.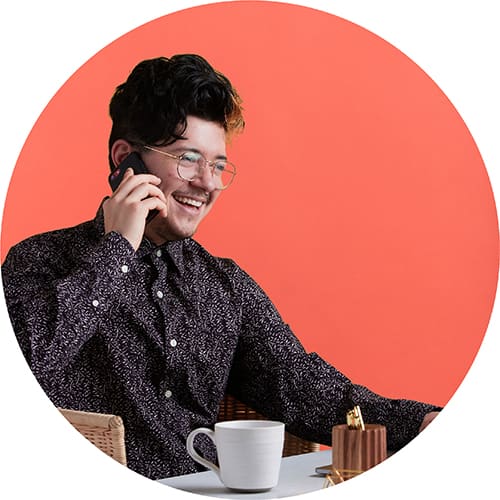 Close more deals
Data is key for tracking and closing sales…for both new and existing customers. Portal-iQ is the best tool to help you effectively manage sales related data throughout your customers' sales and 'conversion' journey.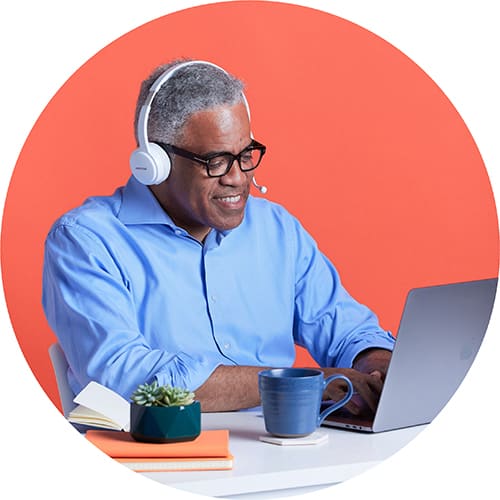 Help more customers
Having accurate, accessible, real-time information ensures you can support and service your customers quickly and seamlessly. Portal-iQ helps ensure you are effectively tracking and recording your customer service requirements.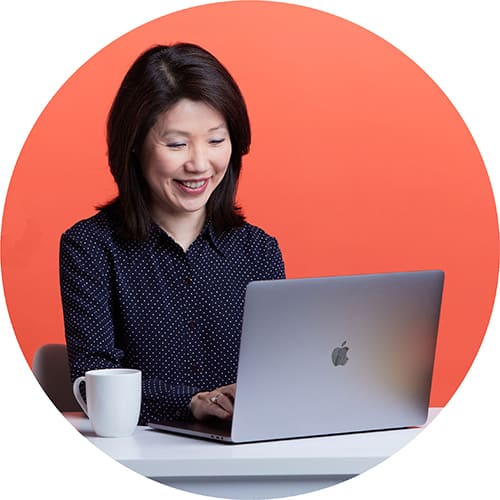 Create effective teams
Portal-iQ provides a high-level analysis and support tool. It will quickly and seamlessly help guide you and your team to ensure you are effectively using HubSpot. Achieved through clear, specific recommendations in simple to read reports.
Work smarter with HubSpot. Portal-iQ provides key recommendations combined with up to date data to help you maximize HubSpot for your marketing, sales, and customer support.
Key Benefits of Using Portal-iQ
Maximize the return on your HubSpot investment
Portal-iQ is a critical support tool to help ensure you are maximizing the return on your HubSpot investment. Having access to accurate, current, extensive information is key to supporting your marketing, sales, and customer service deliverables.
Track and monitor key data availability
Portal-iQ provides an effective, efficient means to track and monitor the availability of key data within the HubSpot platform. By capturing accurate data throughout each customer's sales conversion journey, your sales team can provide the appropriate level of support and follow-up.
Make better business decisions
With clean, complete, up to date data you can make key business decisions faster with more certainty.
Measure your results
Marketing campaigns can be more accurately tracked, measured, and tested. As a result, you can more accurately target and tailor your marketing campaigns to meet your target market's requirements.
Improve productivity and time efficiencies
With greater use of HubSpot, and more accurate and complete data, you get to spend more time on what's working…and less time on what's not.
Important: Portal-iQ never reads your data/information, so data privacy is maintained throughout the analysis. It takes a higher-level approach of scanning for 'field completion' and feature use to ensure you are maximizing your HubSpot investment.
We never use Artificial Intelligence (A.I.) to analyse data.
Portal-iQ Scans Your HubSpot Hubs
Your data is important, and so are the systems you use to leverage the information in your HubSpot CRM. It's essential that all of your HubSpot Hubs are set up correctly otherwise - as you grow - so will your problems. When your HubSpot Hubs are set up correctly you spend less time on admin and more time doing the things you love.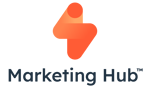 Marketing Hub, properly optimized, with accurate data helps you and your marketing team run your marketing campaigns more effectively and efficiently. The result - more conversions, plus the benefit of delivering the right type of leads to your sales team.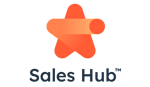 Sales Hub, when properly optimized, helps your sales team spend less time on data entry and more time selling. They will be more informed and be able to view key data for each prospective customer. This data will help them to more effectively 'connect' earlier on in the sales process. In essence, more customers for less effort.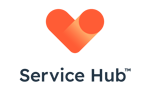 Service Hub, when properly optimized, helps you and your team have access to the right data, at the right time, so you can spend less time looking for information and more time helping your customer... which means happy customers.
Portal-iQ Scans Your HubSpot Portal
Your contacts, companies, deals, and tickets are at the heart of your CRM. When your data is clean, accurate, and up to date you and your team can make business decisions faster, and with more certainty. Your results are more measurable because you can accurately test and measure. You get to spend more time on what's working, less time on what's not working and less time on admin.




Portal-iQ Delivers an Easy to Read, Fully Customized Report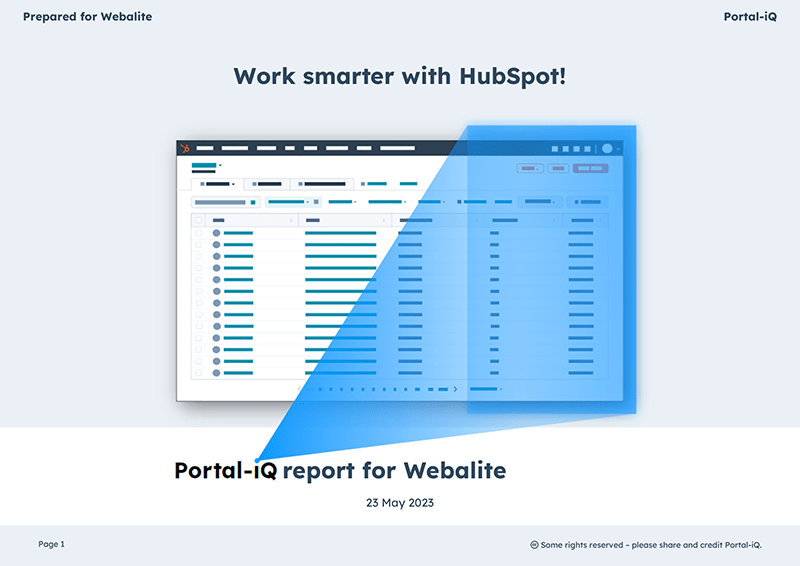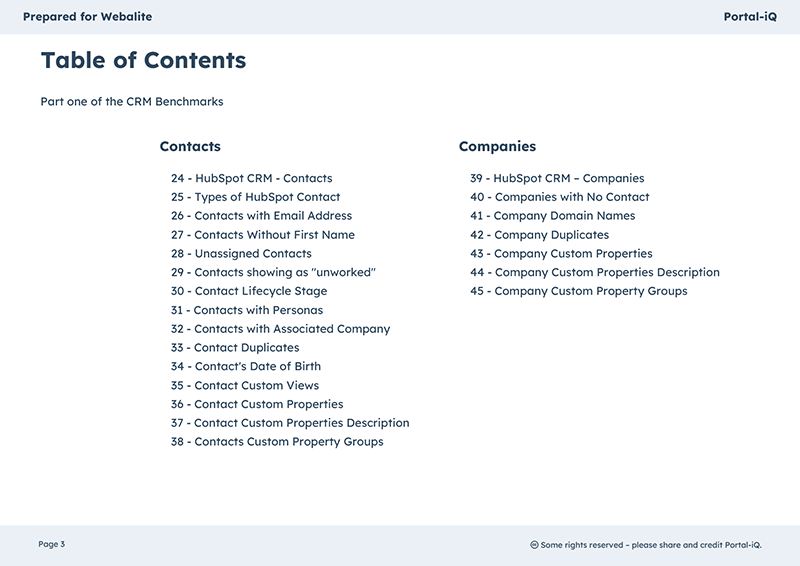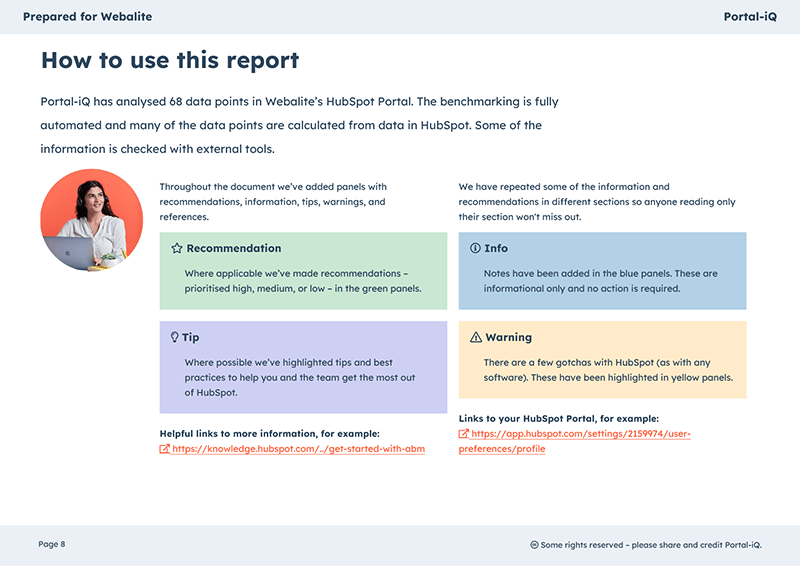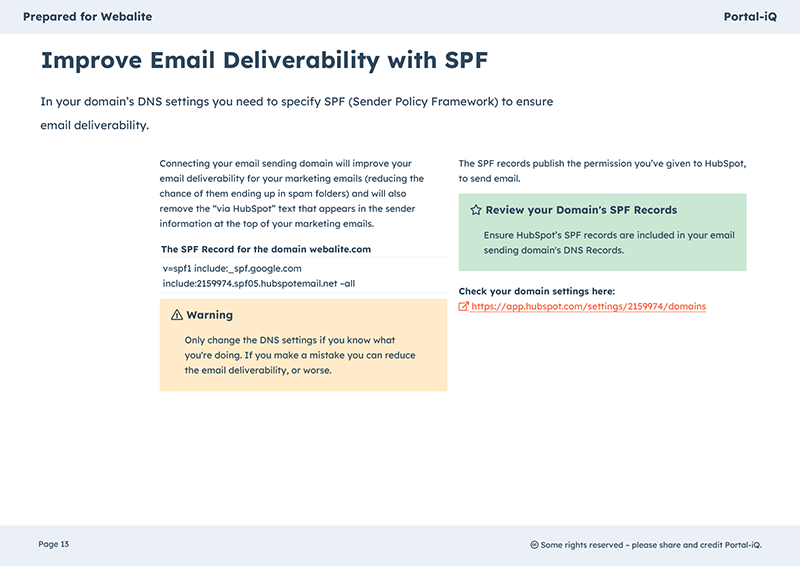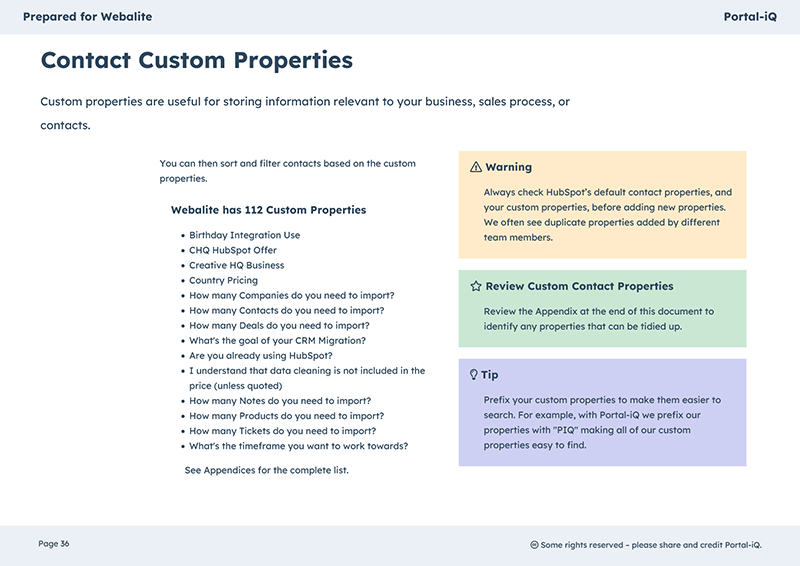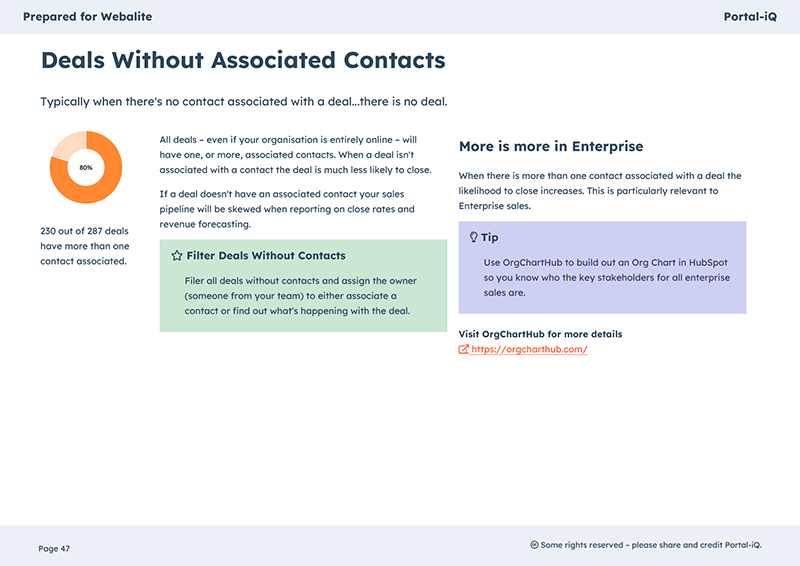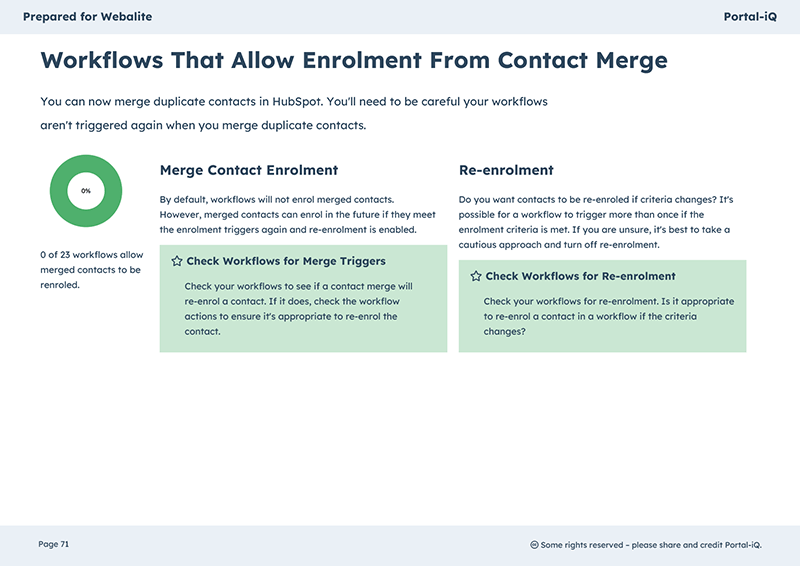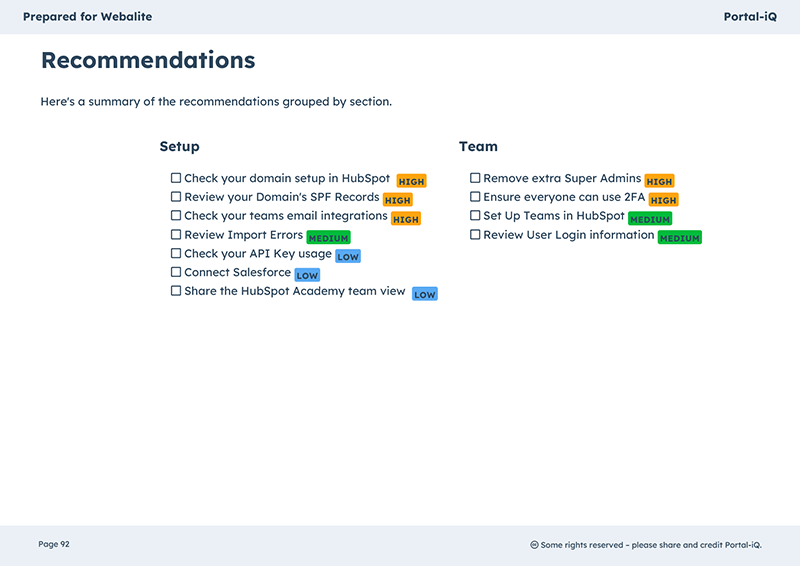 ❮
❯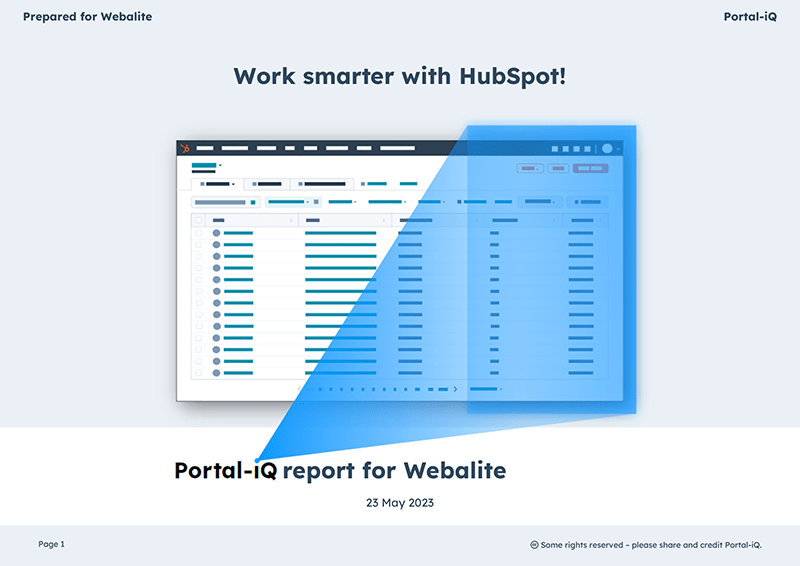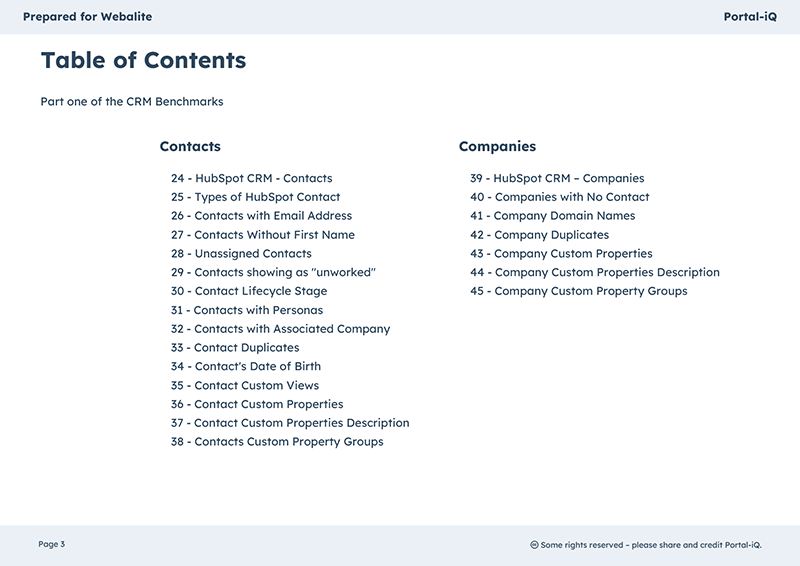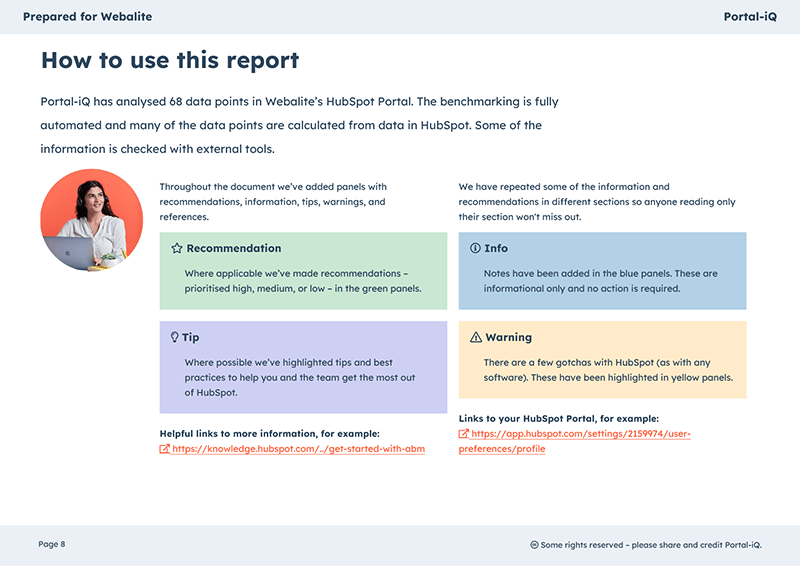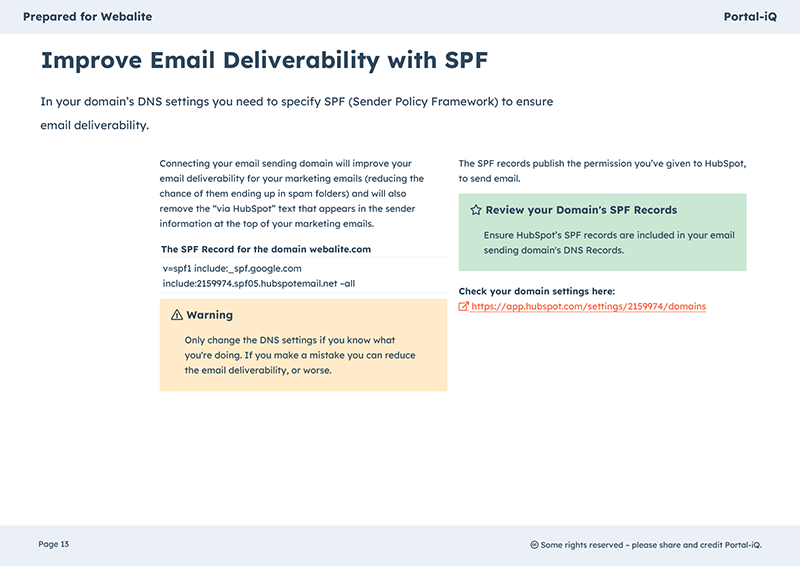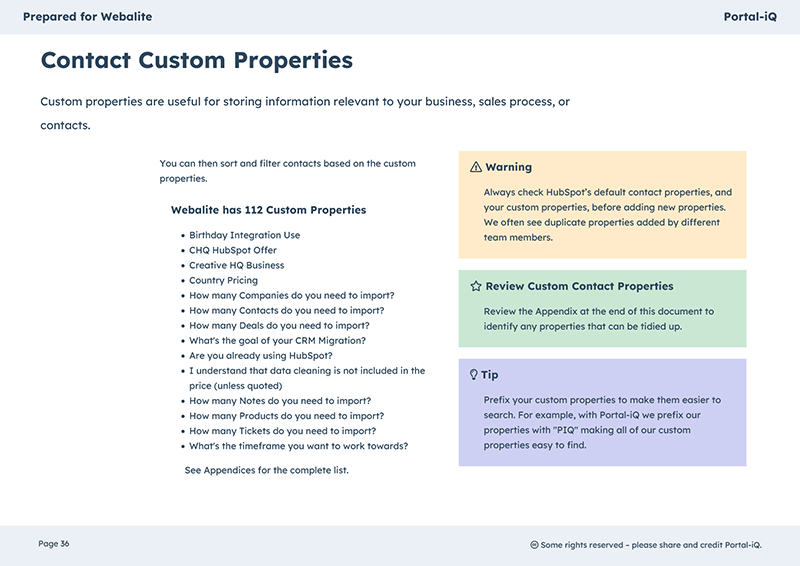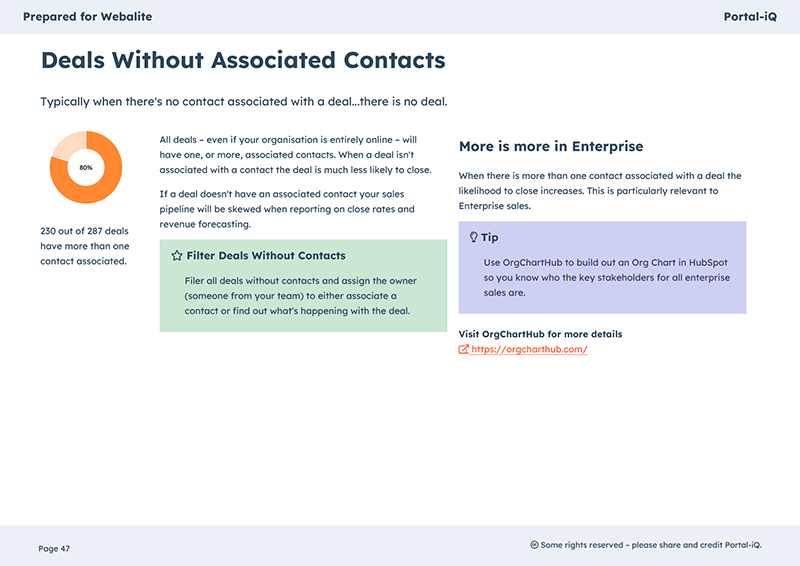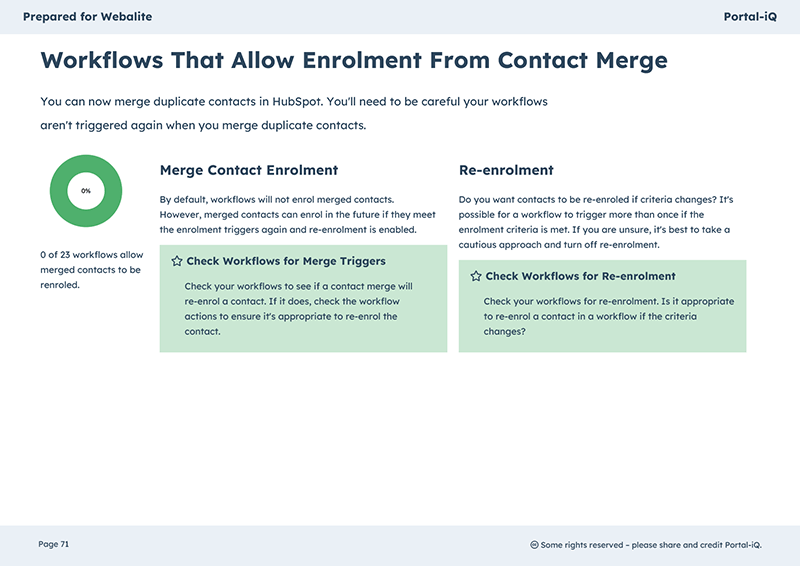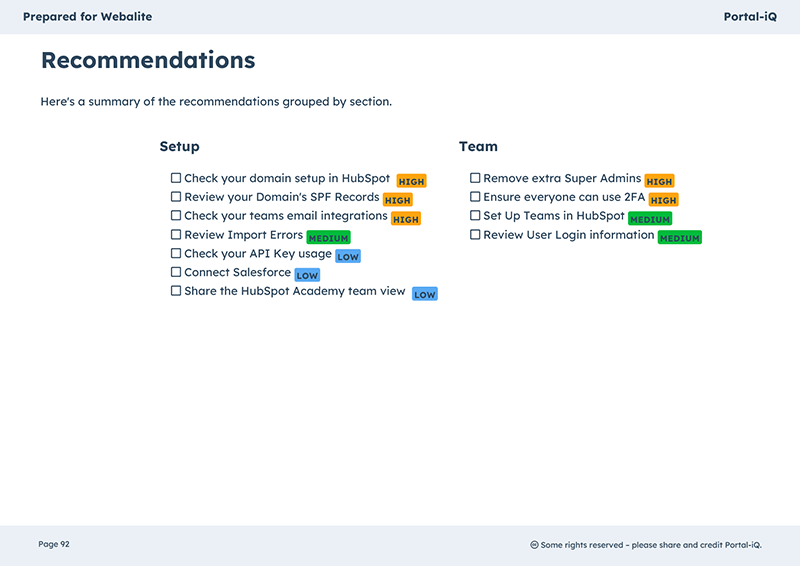 The comprehensive Portal-iQ HubSpot Audit helps you identify issues in your HubSpot portal that are costing you and your team time and money. When you run the Portal-iQ audit you get a detailed report with prioritised, actionable recommendations. The report is designed to help you and your team optimise HubSpot so you can spend less time on day-to-day tasks and more time helping your business grow... after all, that's just one of the reasons why you bought HubSpot in the first place.
Portal-iQ is designed with privacy in mind. Portal-iQ doesn't specifically read your data/information, so data privacy is maintained throughout the audit. It takes a higher-level approach of scanning for 'field completion' and feature use.
Be assured, Portal-iQ only analyses your data, your data is never saved. No personal information is ever used by the Portal-iQ App.
Once your data is compiled into the PDF, the anonymised benchmarking data is only ever saved if explicitly requested by you (we're working on a new feature to measure your portal health over time).
Because personally identifiable information is neither collected, nor stored by the Portal-iQ App, it's easy for us to exceed the privacy standards defined by Europe's General Data Protection Rules (GDPR).
If you request your details to be removed from our HubSpot Portal, we can also remove any anonymised data from the Portal-iQ system.


It's just 5 easy steps. To start the Portal-iQ process you'll need to give access to the app so it can benchmark the data in your HubSpot CRM.
You'll be asked if you want to give the app permission to read the objects in HubSpot. Once you agree, you'll be taken to the next page with a summary of your next steps where we'll ask a few more questions.
Portal-iQ is designed to run in the background, with a minimum impact on HubSpot. It may take a while to process, depending on how many objects, e.g. contacts, companies, deals, and tasks, are in your CRM system, and which HubSpot Hubs you use.
Once completed, you will receive an email confirming this along with a link to your PDF report.

You will soon have a prioritized, actionable list of recommendations to help you optimize your HubSpot CRM and HubSpot Hubs.
And, you can implement best practices to improve the quality of your data. It's important to remember "progress over perfection". You and your team will be able to make continual improvements over time and work smarter in HubSpot.
A Small Investment to Work Smarter with HubSpot
Portal-iQ has pricing to suit your selected HubSpot package.
Portal-iQ HubSpot Audit is a one-time cost with no recurring costs.

*the exact number of pages, appendices, recommendations, tips, and warnings will vary depending on your HubSpot setup and tiers.
100% Money Back Guarantee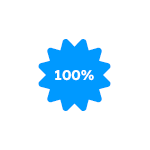 If you're unhappy and would like a full refund, please contact us via the support form. You can keep the Portal-iQ Audit and we will refund 100% of your payment via Stripe. All we ask in return is feedback explaining why you requested the refund so we can improve our products and services for other customers.
HubSpot Partner Programme
Apply now to join Portal-iQ's Partner Programme so you and your team can run HubSpot Portal Audits for your leads, opportunities, and customers.
Portal-iQ is Powered by Webalite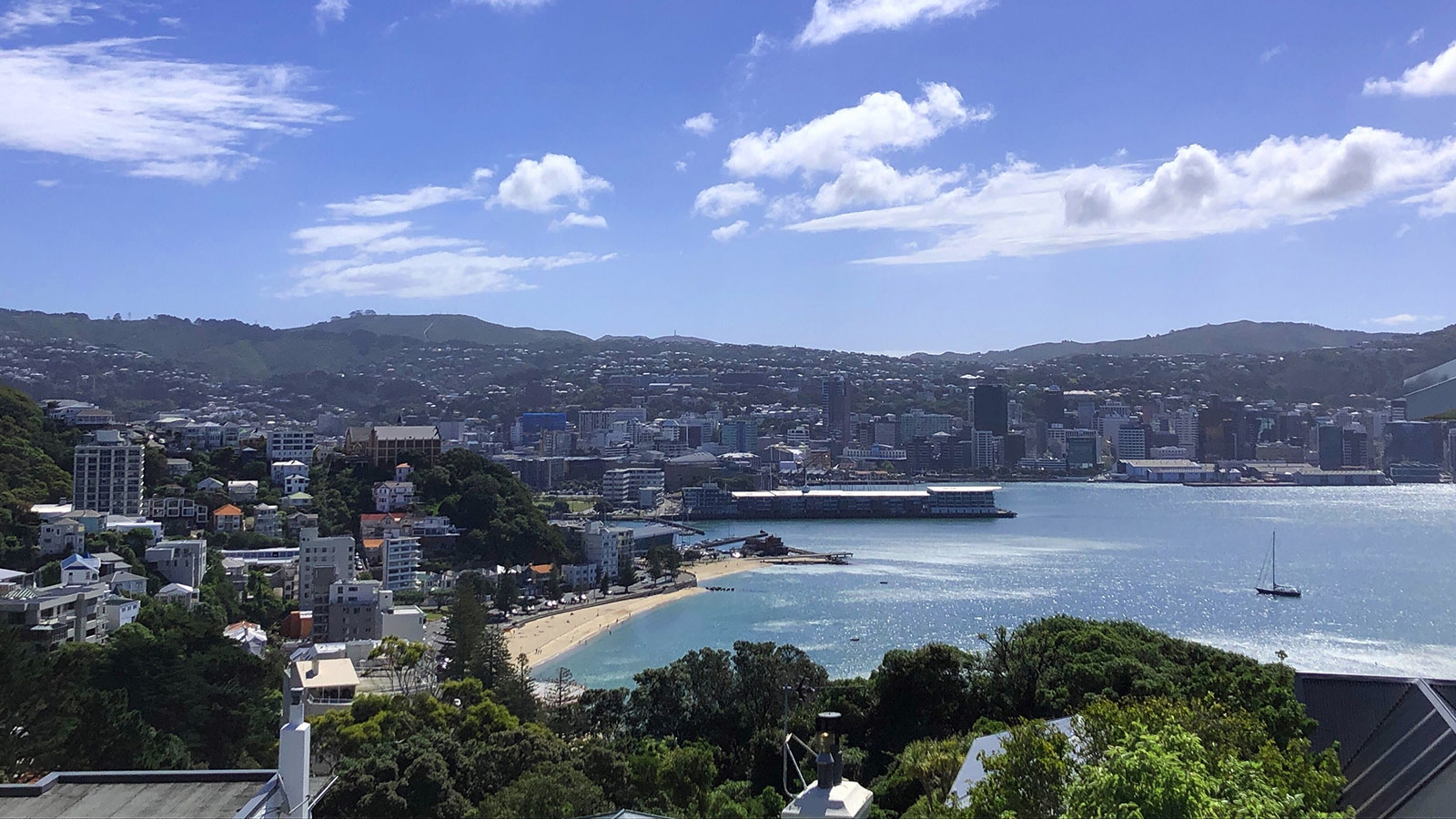 Portal-iQ is based in Webalite's office in Wellington, New Zealand.
Portal-iQ was built by the team at Webalite, a certified HubSpot Partner Agency based in Wellington, New Zealand. For over a decade Webalite has used auditing tools and reports to help customers get better results, faster.
In 2021, we handcrafted a comprehensive HubSpot audit for one of our clients. The response was amazing and helped us quickly fix the issues in the portal and move onto the jobs that helped the customer grow with less friction.
Once the team at HubSpot started asking us about the Health Check for HubSpot (as we called it at the time) we knew we were onto something. In February 2022 we were proud to be accepted into the HubSpot App accelerator programme. Months of coding, a complete refactoring of our Benchmark Engine, a new brand and a new website… here you are.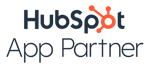 INBOUND 23 Special Offer


Buy one get one free
Purchase a Portal-iQ HubSpot Audit before September 30th 2023 and you'll receive a free 90 day follow-up audit and consultation.
Be the first to know about new features – subscribe to updates from Portal-iQ
Learn how to work smarter with HubSpot