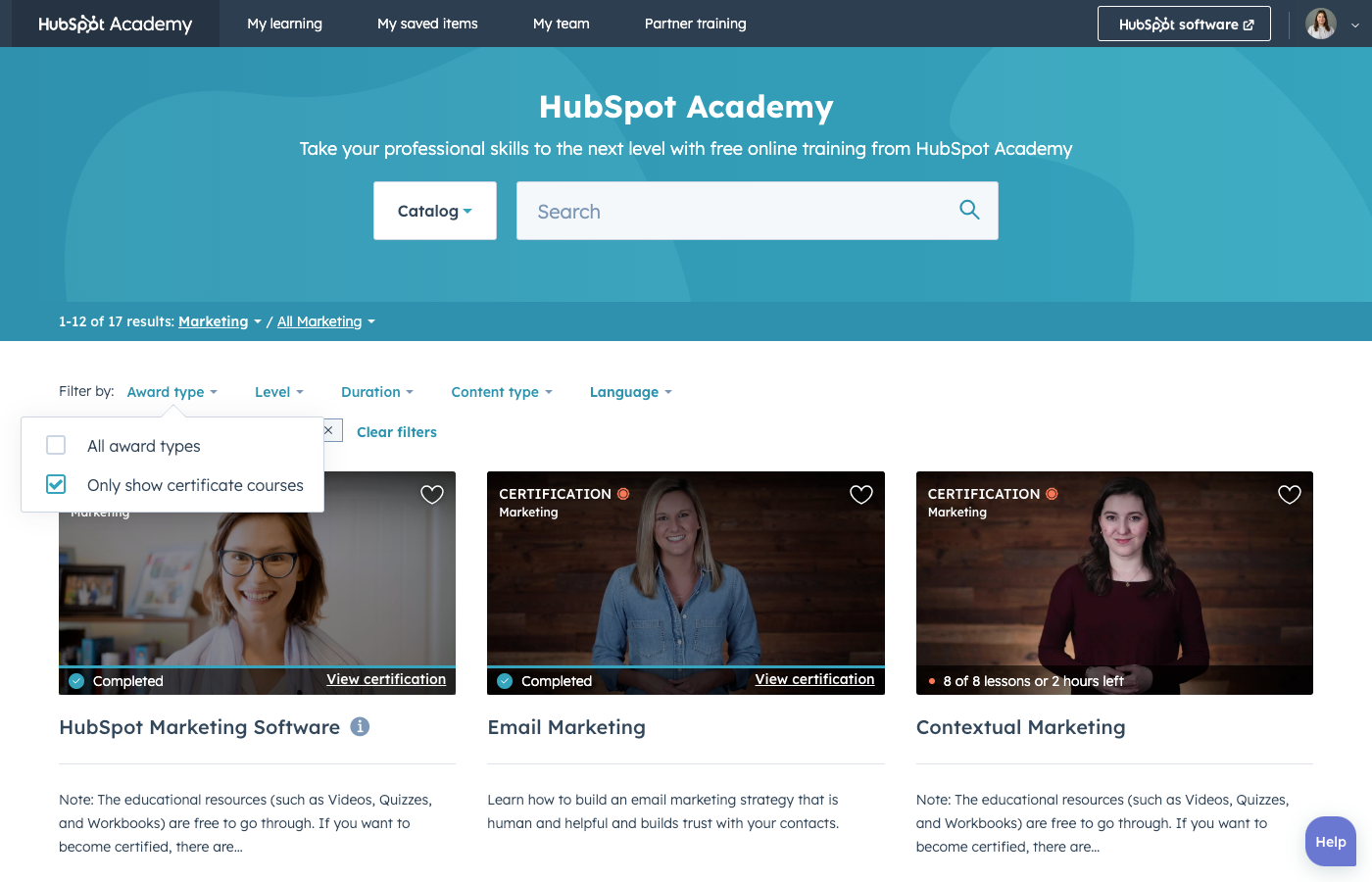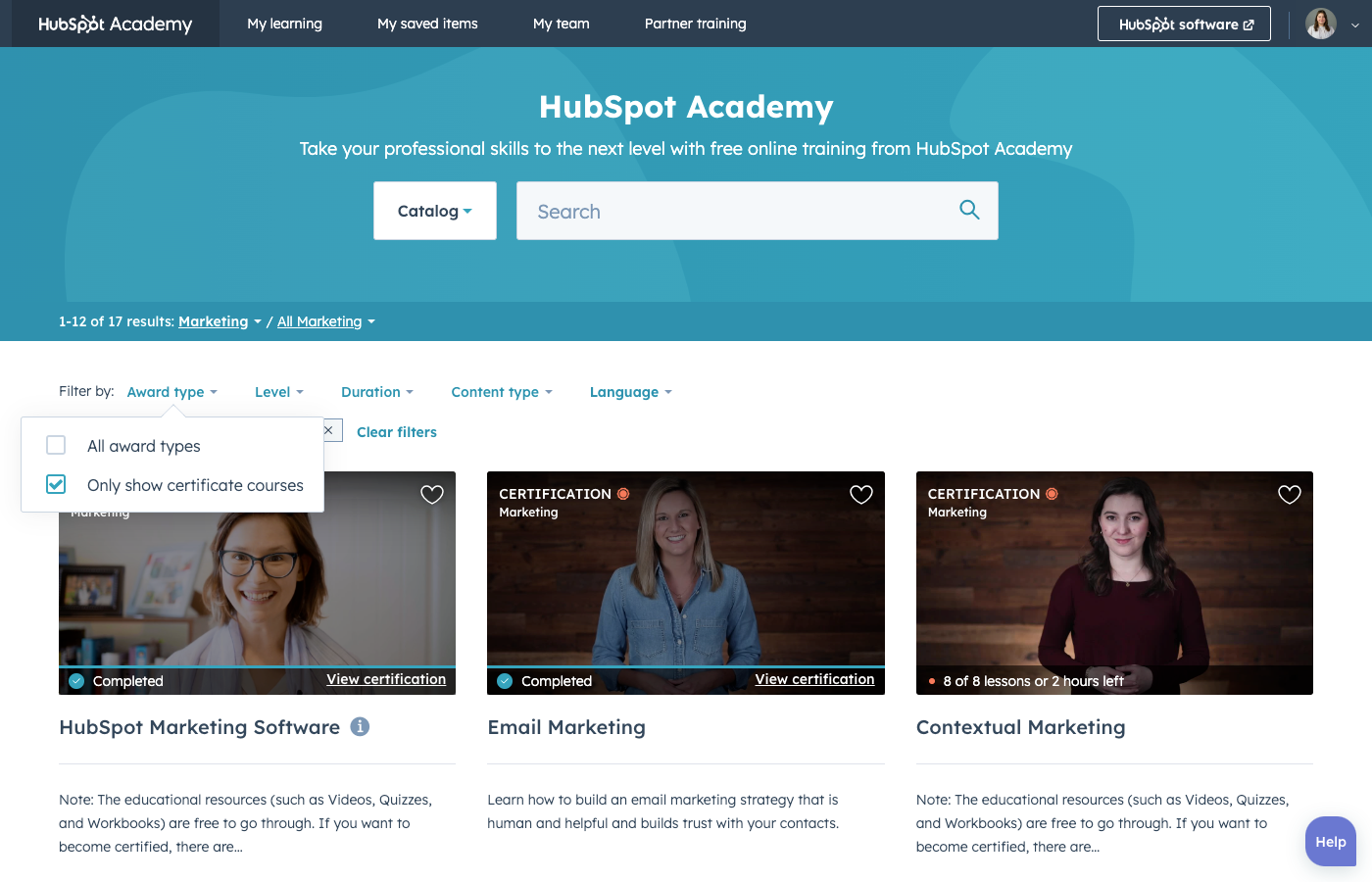 HubSpot Certifications: Are they worth pursuing and how to fast-track your learning goals
HubSpot offers a range of training and certifications in its HubSpot Academy. If you choose to work through one of their certification courses you'll have the option to get certified by completing extra tasks.
We'll walk you through whether these certifications are really worth it, which are best, and how to achieve your learning goals fast.
Training at HubSpot Academy
HubSpot Academy has an abundance of training options, from quick 2-minute refreshers to full certification courses. It's easy to jump in and get start learning.
If you're wanting to complete a certification, make sure the course you take is a HubSpot certification course, rather than a regular HubSpot training course.
To make sure the training you're looking at will grant you a certification, turn on the HubSpot certification filter.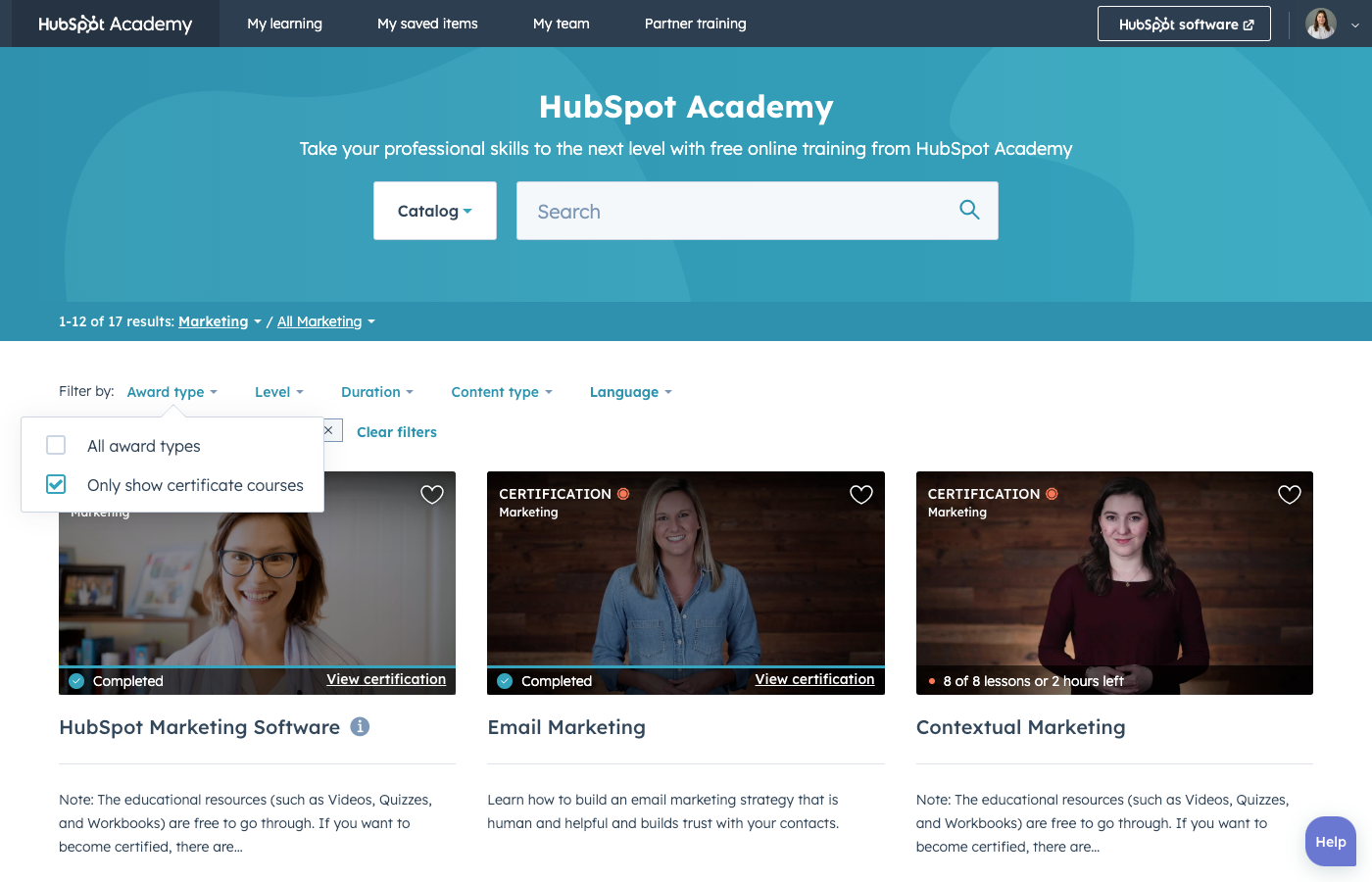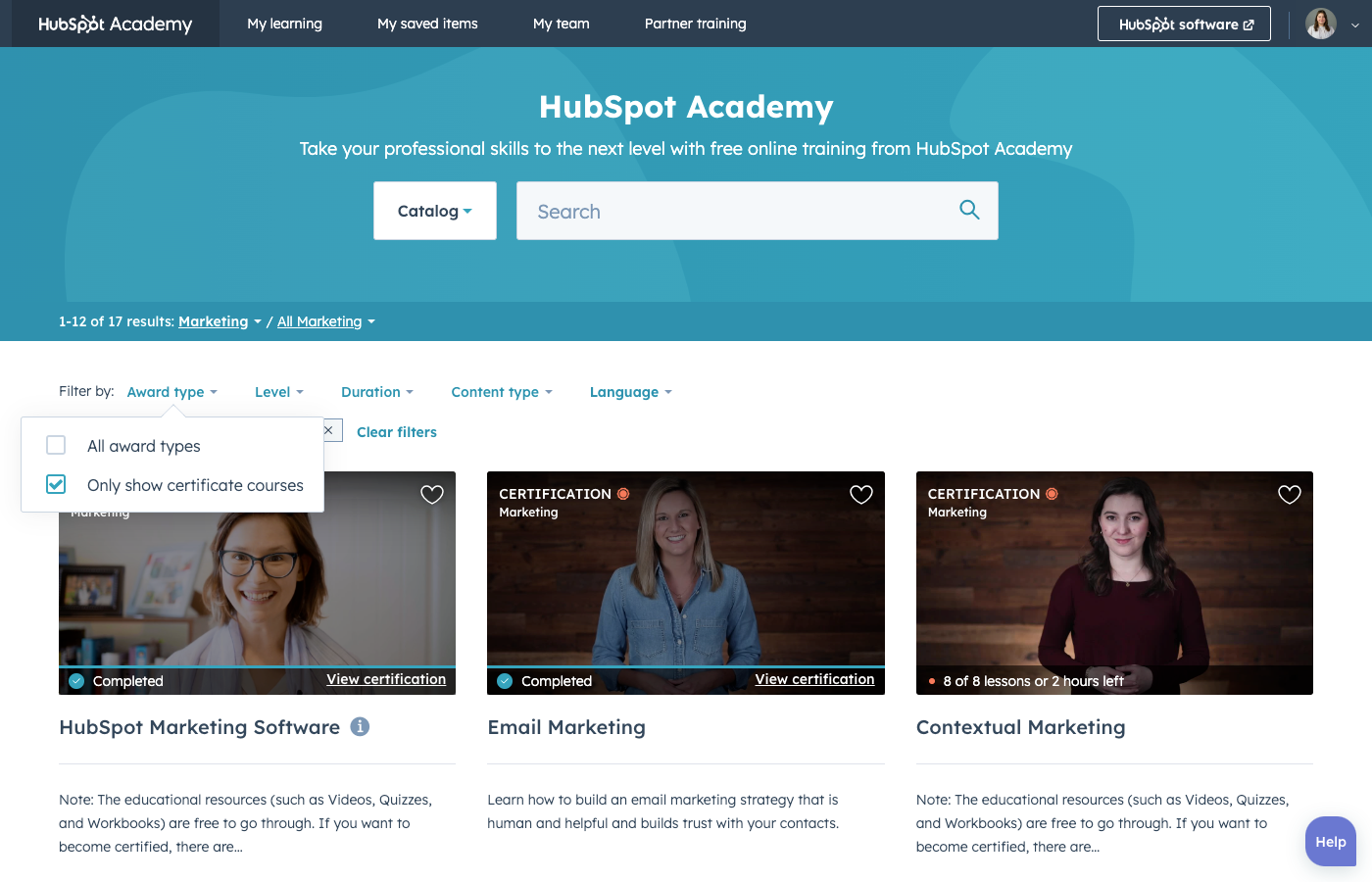 All certification courses also have an orange certification symbol in the top left corner of the video preview.
Are HubSpot Certifications Accredited?
The short answer to this is 'no'.
When you complete a course you may be certified in the topic (if you chose a HubSpot certification), but you won't be accredited.
What's the difference between being accredited and being certified?
Often the terms 'certified' and 'accredited' are used interchangeably. When it comes to HubSpot, however, these are weighted differently.
Both accreditations and certifications are credentials, but accreditations are a higher level achievement that often have more hoops to jump through. Anyone can achieve a credential through HubSpot Academy. To earn an accreditation, you must be a part of a solutions partner organisation and have demonstrated expertise.
How can I become HubSpot certified?
To get certified, you'll need to make sure you've completed all the requirements. These will be clearly outlined at the end of your training. Some courses may require tasks to be completed, others are simply an end of course exam*.
The exam will be multi-choice with a generous time limit (typically 1 hour). You won't have the option to go back and change an answer once you've moved onto the next question, so make sure you're confident first try.
If you don't pass you'll have to wait 12 hours to try again. But don't worry, you can retry as may times as you need.
Once you've passed all the requirements for the certification you'll receive a certificate confirming your achievement. You'll be able to add this to the 'licences and certifications' section of your LinkedIn profile and to your CV if you wish.
*If you've completed all of the requirements but still can't see your certification you may be waiting for one or more tasks to be marked. These are marked by real people at HubSpot so can take from 1 to 3 days.
Adding certifications to your LinkedIn profile
Once you've completed your certification, you'll be able to view your certificate. Here, below your certificate's preview, you can choose to 'share your achievement'.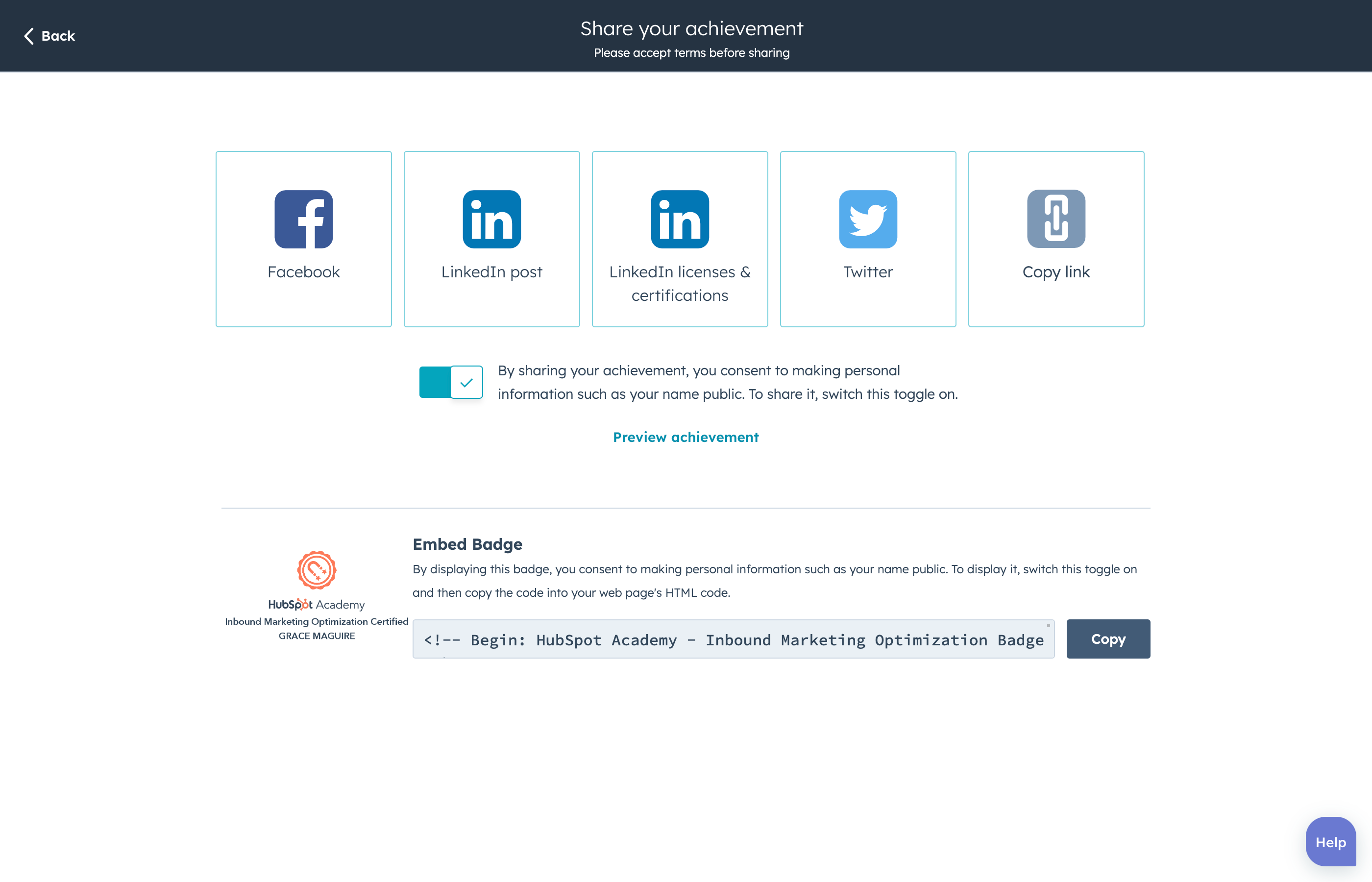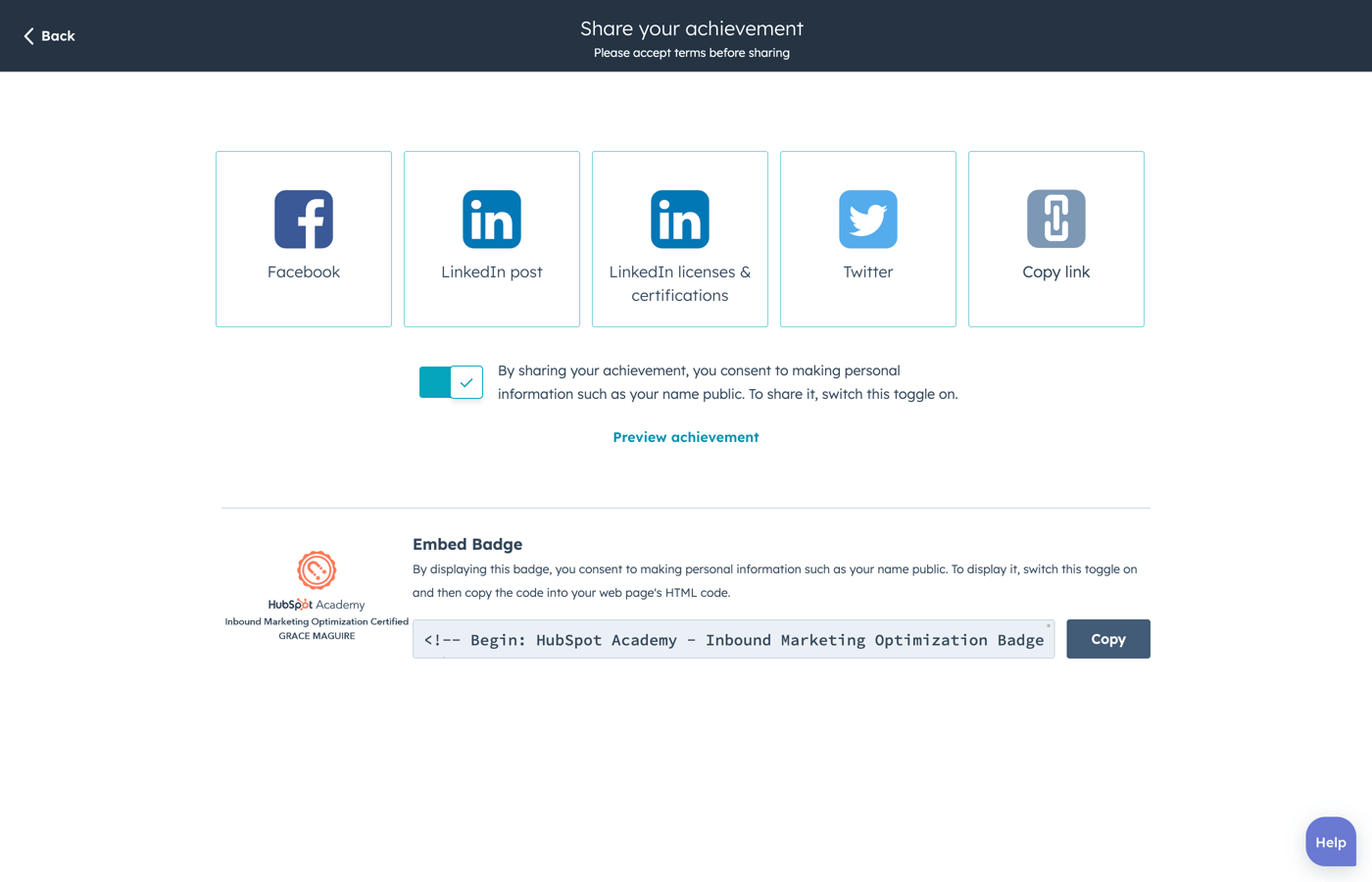 You'll be taken to a new 'share your achievement' page to consent to HubSpots terms and select which platform/s you would like to share to.
To add your certification to your LinkedIn profile rather than creating a post, select LinkedIn licenses & certifications.
HubSpot will automatically fill in all the required information*. Review to make sure it is correct, add any relevant skills your would like featured on your profile, then publish.
*You can also add your certification by going to LinkedIn and clicking 'edit profile', then scrolling down to licenses and certifications. By doing it this way you'll have to enter all the relevant information manually.
How can I become HubSpot accredited?
There are currently six different HubSpot accreditations (as of 21 June 2023).
To be HubSpot accredited, there is certain criteria you must meet:
You must be an approved HubSpot Solutions Partner organisation.
Three or more team members must have completed HubSpot's essential certifications*.
Depending on the accreditation, you may also need to complete further certifications, be above a certain partner tier, or have completed certain activities within your organisation in the past 12 months.
To find out more, head to HubSpot's Solutions Partner Credentials page.
*This includes: HubSpot Reporting, HubSpot Marketing Software, Service Hub Software, HubSpot Sales Software, Platform Consulting, Objectives-Based Onboarding, Marketing Hub Implementation, Sales Hub Implementation, Data Integrations, and Salesforce Integration.
Are HubSpot Certifications worth it?
Despite not technically being accredited, HubSpot certifications are still worth doing.
If you're looking to up-skill or learn something new, HubSpot Academy has a range of free learning across marketing, sales, development, and more.
And, if you're wanting something tangible to show off everything you've learnt, certifications are a great way of doing this.
Which are the best HubSpot Certifications?
So, you've decided you'll log into HubSpot academy and complete one or more certifications…but which are the best to do? How will you know whether you're learning the most valuable information for your role?
This will depend on what you're hoping to achieve from your learning. If you work in sales you may want to learn more about HubSpot's sales hub, in which case you would do the HubSpot Sales Software certification. However, if you work in sales but want to move toward working on more marketing for your firm, you may choose to do the Inbound Marketing certification.
We've broken down the best certifications to do based on what you're hoping to achieve.
I want to get better at marketing…
If you're wanting to get better at marketing, a great place to start is HubSpot's Digital Marketing certification. If you know you'll be using HubSpot for your marketing, the HubSpot Marketing Software certification is also a great pick. These will both set the foundations for your marketing career.
I want to achieve more sales…
If you're wanting to up-skill to achieve more sales, HubSpot's Sales Enablement certification will walk you through building an optimised sales strategy. If you know you'll be using HubSpot, the HubSpot Sales Software certification is another great course.
I want to learn how to design a website…
The only certification level course available for website design at HubSpot Academy is the Growth-Driven Design course. Don't be discouraged, though, as this is an excellent course for learning the basics of optimising website design for great results.
I want to start developing my own software…
The best pick when wanting to start developing your own software in HubSpot is Integrating With HubSpot I: Foundations. This course will get you started with HubSpot's API and other tools to start developing with HubSpot.
A HubSpot certification gotcha: Expiration
Congratulations! You committed to learning all the content in a course, passed your exam, and earned your HubSpot certification. Well done!
You may be thinking you've done all the hard work and finished your HubSpot certification for good, unfortunately, that's not the case.
All HubSpot certifications have an expiration period.
Depending on the course, this expiration period will either be 13 or 25 months. You'll need to resit your exam once the 13 or 25 month period has passed if you want to retain a current certificate.
This expiration date will be on the certificate itself and in your HubSpot Academy profile.
You'll also receive an email from HubSpot reminding you to retake the exam to retain your certification.