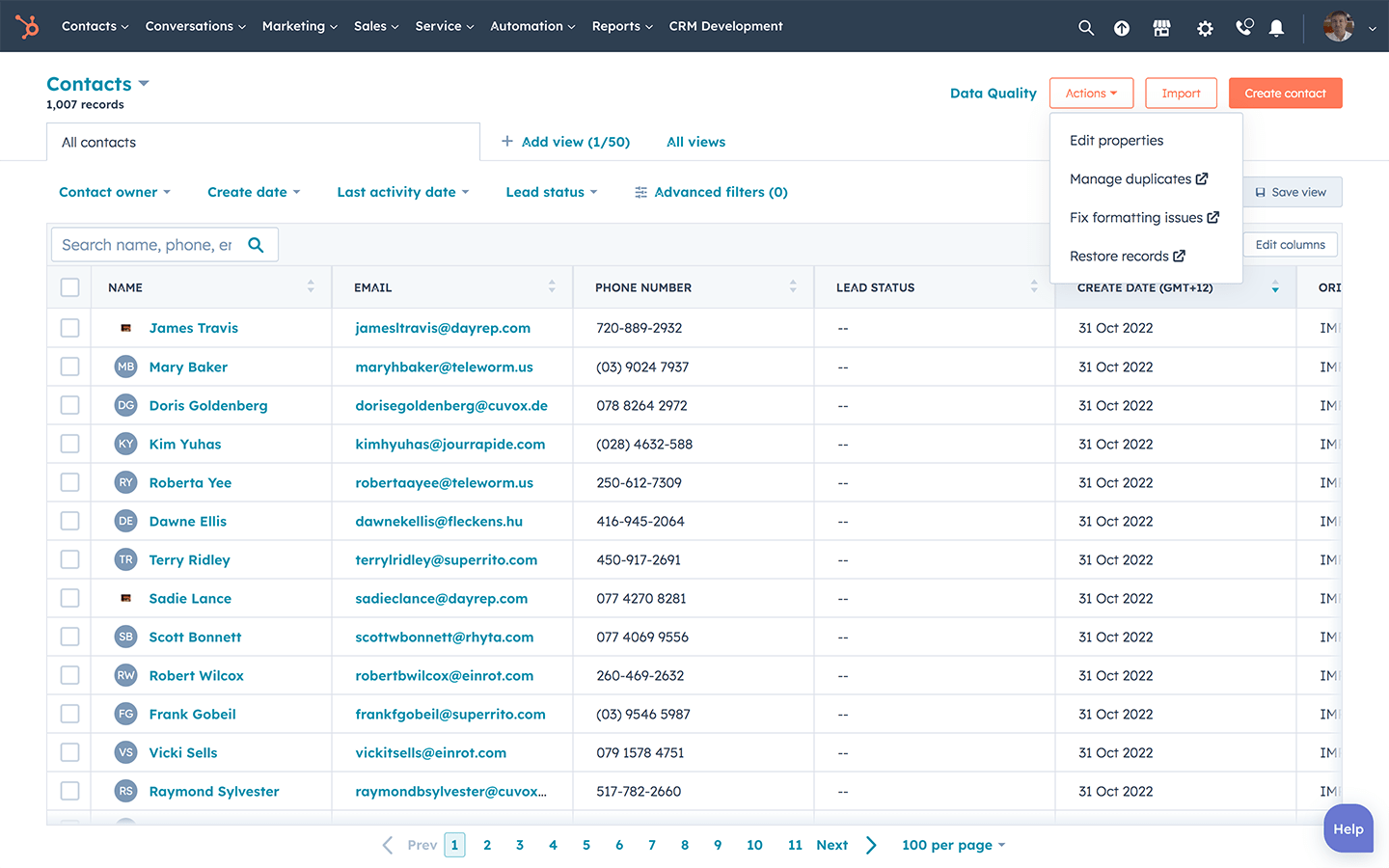 Get the most out of your HubSpot setup
Many organisations sign up for HubSpot but few come close to unlocking the system's full potential. Having worked in HubSpot portals since 2016, we have an excellent grasp on how to maximise setups using best practices. Read on to find out how.
Substandard setups can occur for a variety of reasons. Some of the most common reasons we've found include:
Different people use different apps (or worse – no apps).
Everyone works ad-hoc so nobody really knows what's going on.
The setup is dismissed by some of the people in the company.
The person that set up the HubSpot portal has moved on and the knowledge has left with them.
Have you experienced any of these setup challenges?
Top Tip: Changing system processes a lot can leave your employees feeling frustrated. If you're hiring someone new to take over your HubSpot Portal, when possible, make sure the person moving on helps with onboarding before they go.
We've also seen HubSpot Portals set up using best practices.
Documentation: Using proper documentation makes systems and processes easier to understand. Everyone is on the same page so it is easier for everyone to deliver an excellent customer experience.
Maximised CRM Features: All of the relevant HubSpot features should be in use. Companies that under utilise features miss out on value adding. By using all the relevant features, teams will be able to communicate effectively and efficiently right inside the CRM.
High Adoption Rate: The higher the adoption rate within an organisation, the better the system will work and the greater the organisation's ability to upscale.
So how can you make sure your HubSpot portal is optimised?
To join the leagues of good HubSpot setups, you have to start by documenting your systems and processes. By doing this, everyone in your company has something to refer to when they get stuck, and everyone does things in the best, most logical way. Your team will find it easier to use HubSpot and your customers will notice a positive change too.
There are a few tools available to help with this. One that we've noticed works well for clients is Confluence, from Atlassian.
This will become your business wiki, where anyone within the business can search and find a detailed outline of how to complete a task, what creative assets are available, and other documents to help stream-line your processes. You'll soon find that having one place where everyone can search and find what they need is a game changer.
Once your systems and processes are documented, make a note of which HubSpot tools seem to be missing.
Which technical setups are missing?
Is your team properly set up?
Have you set up the various sections of HubSpot's CRM?
For example, you may find that you've set up contacts but haven't assigned them an owner. Assigning an owner to a contact means the owner will be notified if that contact takes specific actions (depending on the notification set up) e.g. if a contact visits a pricing page.
This is where Portal iQ comes in handy. The Portal-iQ comprehensive HubSpot audit helps you identify issues in your HubSpot portal that are costing you and your team, time and money. You get a detailed report with prioritised actionable recommendations. The report is designed to help you and your team optimise HubSpot so you can spend less time on day-to-day tasks and more time helping your business grow.

Once these steps have been completed, push for adoption throughout your company. The more employees you have onboard, the better the system will work for you. Once everyone is on the same page your organisation will flourish.
Next steps
Analyse your company's strengths and weaknesses with HubSpot. Do you have proper documentation of your systems and processes? Is everyone on the same page?
Consider which features you may not be using to their full potential. Where could you make improvements?
Look into which features you are missing entirely. What value would they bring to your company?
Learn more about Portal iQ's HubSpot audit at https://portal-iq.com/.